2010 was my first and last visit to the Blackpool Magic Convention, I had a great time there but I really only went there to meet with some hypnosis people and dip my toe into the magic community. I meet some great people there, but it was a long trip and no surprise its heavily magic focused and as my interest was more in mentalism and aside from corridor conversation nothing really captured my attention.
Then last year I heard out about a convention called TheSession, this happened 30 minutes from where I live but I totally missed it, and was attended my the likes of Derren Brown, David Blaine and more. This year it moved to London to be more accessible to international guests, but a dedicated Mentalism day was introduced, so I thought I would check it out. I wasn't disappointed 🙂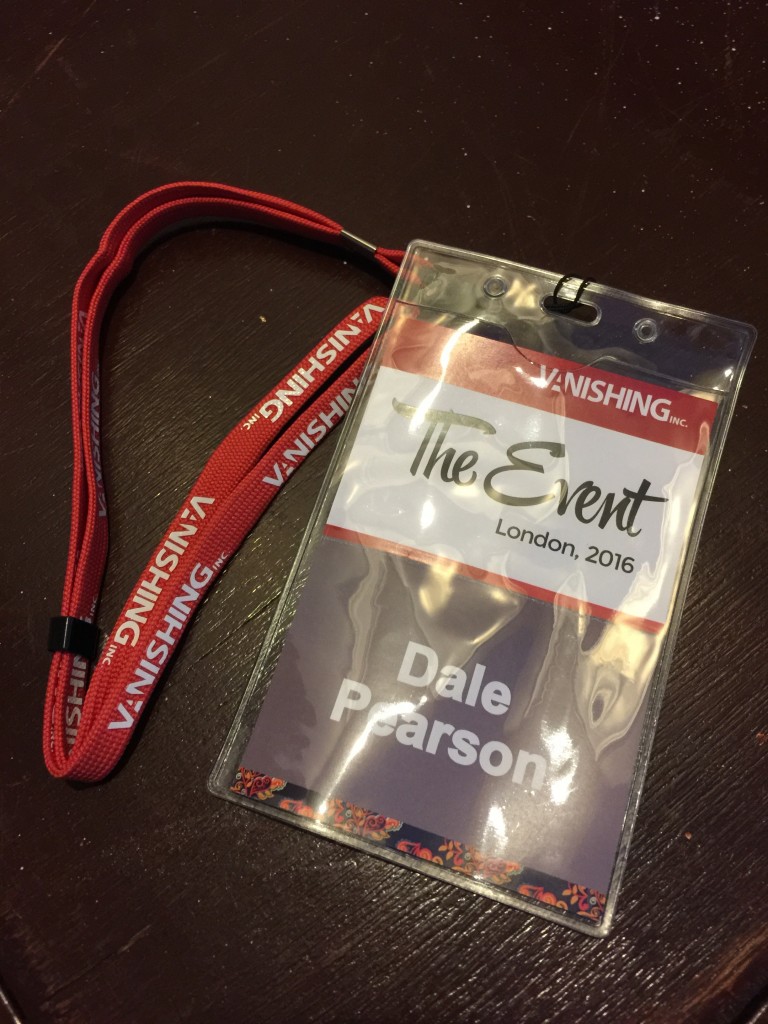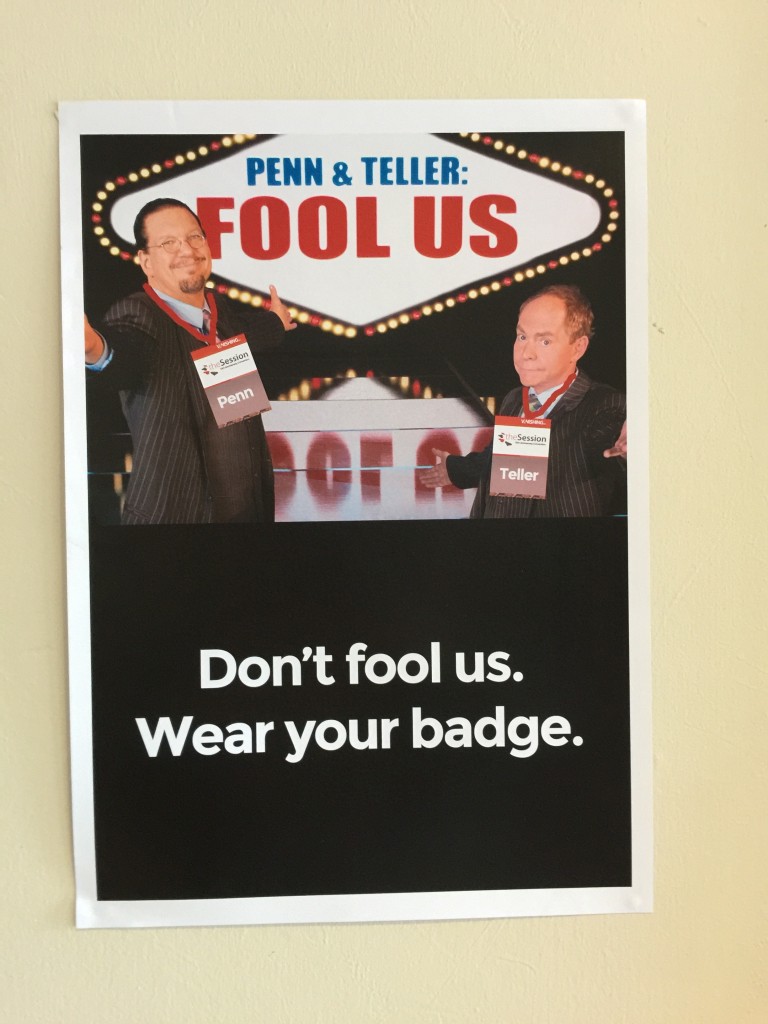 The day kicked off with a lecture from Marc Paul, he got things off to a really good start and spoke about giving the right performance dependant on the audience, ie you cant go doing something close up when there are 200 people in the room, as it wouldn't fill the space. He did about half a dozen routines and went through the working, and there was some simple and great thinking, I wasn't to familiar with Marc's work prior to this but I am now a fan from what I saw (I bought his DVD after).
Next was Mr Luke Jermay, this I was really looking forward to as I am a big fan and either own or have read most of his work, he is a great thinker, both deep but also realistic and pragmatic and provides great perspective. He did a great question and answers type set which was very impressive with strong hits, then he spoke about his methods, his approaches and more. I was really interested in his use of Tarot Cards as a conceptual approach, this isn't really my bag but I really appreciated the thinking behind it and how it could be used elsewhere (I bought his Tarot book and new DVD) :). I should also say that Luke played a huge part in making the EVENT happen, he was facilitating and co-ordinating all sorts on the day, and despite being rushed and perhaps somewhat harassed he still made time to spot and chat. We had a couple of chats throughout the day and I bought him a drink, but decided he wouldn't appreciate a picture request 🙂
Then after lunch there was a round of Flash Talks, these were compared by Chris Cox with an interesting riddle puzzle exchange. I don't think I can remember them all, but it kicked of with a mentalist from Austria and he spoke with some conviction about where entertainment should be focused, and the hit home from me was its about involving people and inviting others into your world, I really liked this. Then there was the double act Morgan and West, I really liked the mentalism coding they had to share (it was binary after all). Then Chris Rawlings talked about drawing duplications, and I liked his approach to this and his use of a white board, not really my thing but I liked it. Then Michael Webber also had drawing duplications, but this time using business cards more as the focus, I also liked this approach and something more in keeping with where my interests are in method, and he spoke about a new wallet he has developed (I checked it out and it is nice, but to pricey for someone who is more a researcher than performer).
After this I had abit of a wander about and spoke to a few people. Most notable was Katherine Mills, Chris Cox, Michael Webber, Colin Cloud, Luke Jermay and Max Maven. It was great to have informal discussions about their work, future plans and general chat. I really appreciated them taking the time more than anything, as everyone was busy with such a packed out schedule, but it was nice to mingle. I also briefly spoke to Ian Sharkey who some of you may know as being a screen writer with Derren Brown and I think he was also involved with Katherine Mills Mind Games show.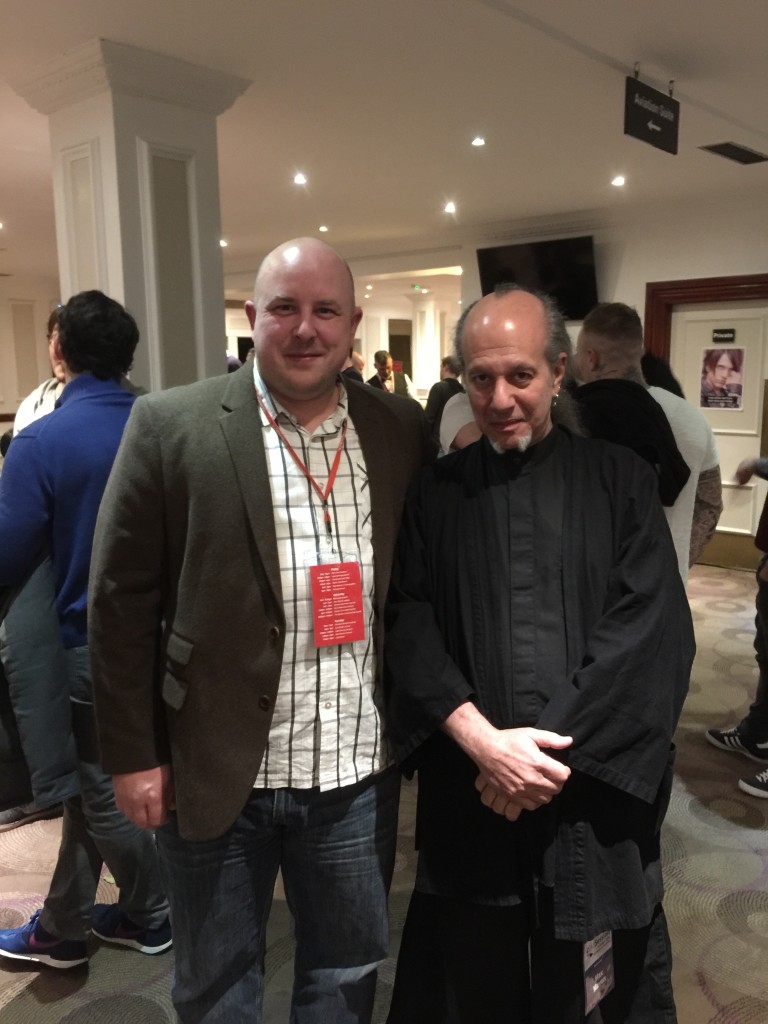 Next up I sat down to watch contact mind reading with Marco Fida. I was really looking forward to this as I had heard about his performance at MindVention in the past, and also liked it when Derren did this on one of his TV shows, and although having a little go at it many years ago hadn't taken things very far. The session kicked off really well, an envelope had been hidden in the building buy a small group of people, Marco selected one and did his thing and promptly was able to move about the building holding the wrist of the individual and located the envelop, it was awesome. Then he came on stage and spoke about mentalism history which was interest, but then that was kind of it. I had hope given the audience he would have talked about about how the method was developed (he says he is self taught) and talks about the real and fake components that can be mixed. I was hoping for some more insight or where to look into this further, so I was a little disappointed of how that talked finished up.
By now I had met up with a fellow InfoSec chap by the name of Dave Hewson, its a small world and I hadn't seen Dave since a BruCon many years ago, but we went for lunch and had a good catchup. I knew Dave was a fan of the arts, but didn't know there was another oddity like me to go and attend such events when its not your day trade, so respect to Dave for that 🙂
After scoffing chicken tikka curry and a bread roll it was off to watch Max Maven in conversation with Luke Jermay. I really enjoyed this session, it was talking about Max and how he started, influences, experiences, his opinions and whats next. There were great questions from Luke and the audience and it was great to hear more about the legend of Max Maven as a person not the performer.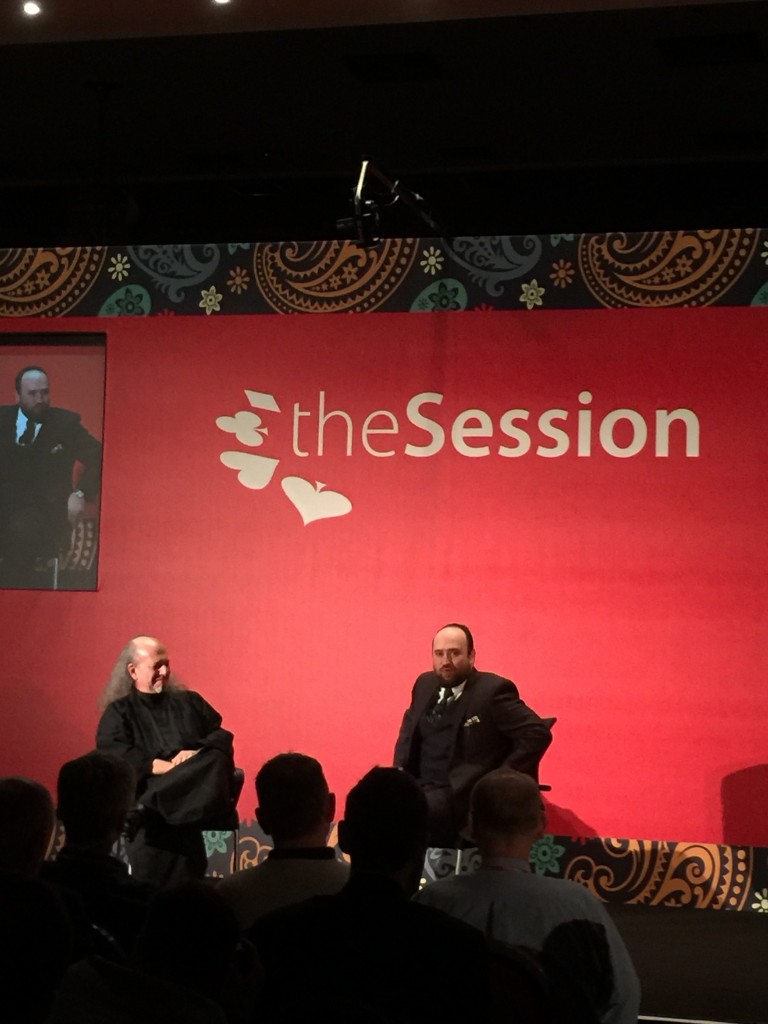 Then I popped along to my scheduled session with David Berglas at the table. David is another total legend in the magic circles, and is famous for many things. Despite being nearly 90 he performed two awesome any card at any number with decks randomly selected and shuffled from the audience, and then a magic rectangle (not square) routine which was enjoyable to watch. This was his third session of the day so was probably abit tired, but I was glad to see the man in action.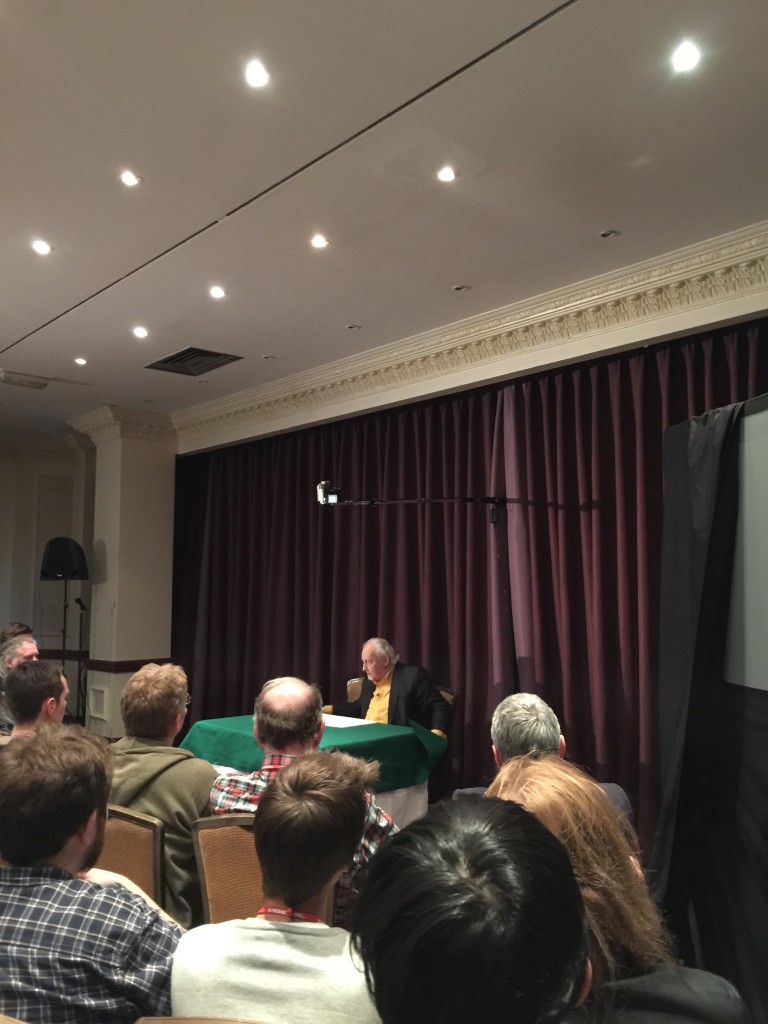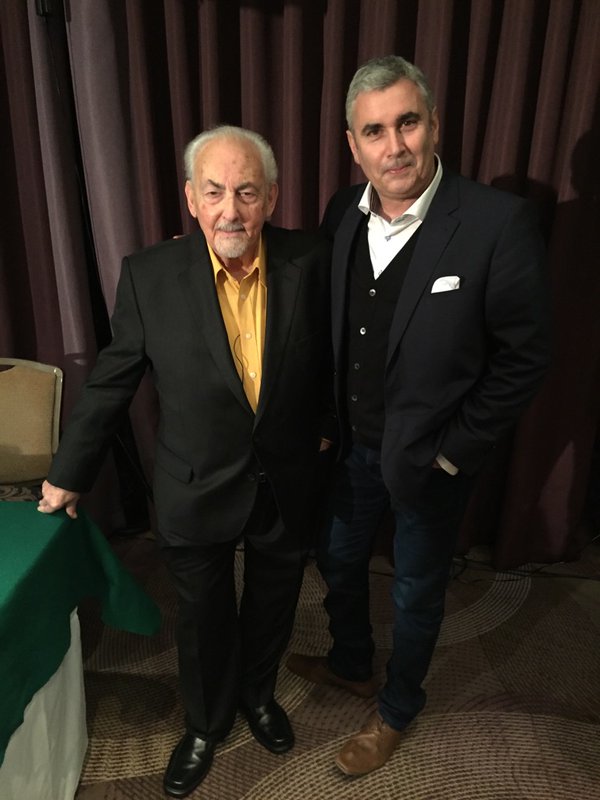 Finally was onto the scheduled surprise event, this was an unannounced guest and apparently previous years have been very impressive. Luke came on stage and announced Sheila Lyon, I have to say I had no idea who she was, but apparently she was a psychic entertainer. With that off she went into the crowd and began giving palm readings to random people (myself included). I have a slight interest in this as I did some research into physics and what social engineers can learn from it, so I was interested in the language used and the approach. It was interesting to hear her talk about her background and what she does, it was also helpful for Luke to join her on stage and talk about his fascination with her approach and how he has been able to utilise the approach and gave some great examples of using it in a non mystical approach. I have to say as much as I enjoyed it, I was expecting a "well known" person for the surprise event but overall it was good.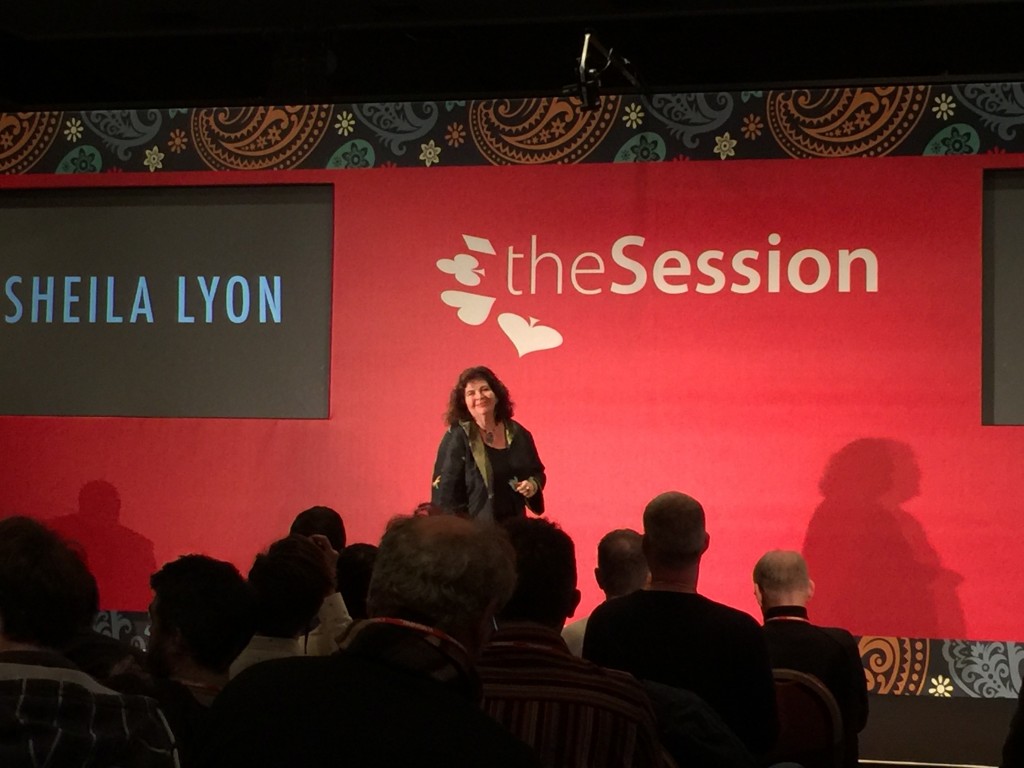 In the evening I took to the bar area, and share drinks with Dave where we discussed abit of InfoSec, but then had a really great and lengthy discussion with Sheila and it was insightful and clarified a few things for me. In addition to this I had fun with a little "which hand" routine and even got some clarification from its creator Mark Elsdon when I was getting some odd results, but it was a combination of technique and subject having beer influence, but it was great fun with great results. Then before I knew it 1am had come and gone and it was time to get some shut eye 🙂
I really enjoyed the EVENT, big thanks to Luke Jermay, Joshua Jay, Andi Gladwin and everyone involved for creating something amazing. I liked how open everything was, it was a product pushing event, sure you could buy stuff but it wasnt hard pushed or anything. I didnt stay on for all the magic focused stuff as mentalism was my main focus, but I am sure the bits I missed was also awesome and my only regret was not being around to see Richard Wiseman talk as I am a fan of his thinking also, and of course his mind reading T-Shirt.
If you are interested in magic and mentalism I think this is an event worth attending, assuming the approach stays the same I plan to attend again.