I should start this post by saying that I am a huge Derren Brown fan, so I am probably commenting from a biased / rose tinted view but I am certainly trying not to when I share my views on Derren's latest TV offering Apocalypse. So the reason for this quick post is a few people I know have asked me if I think this show is real, and seen some discussions on forums, and of course recently there has been the claims that the 'star' of the show Steven was an actor. So really briefly I am going to give my rational as to why I think what is happening is feasible, of course I don't know if I am right, and with TV editing who knows.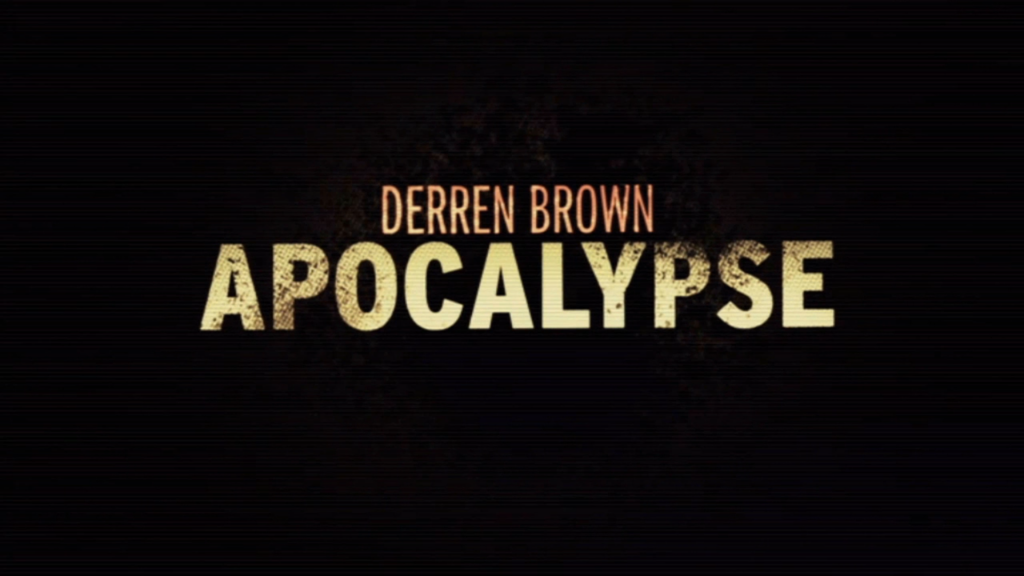 So could this show all be totally fake, could Steven, his family and everyone else who isn't supposed to be real actually be an actor, of course and most people (myself included) will never really know. However I think its easily feasible that a large percentage of what we are seeing is real.
How can he believe there is a meteor storm? – Because there is one, just not something for humans to be worried about. Think about it, our reality is shaped by our beliefs and imagination. Alot of this is reality is provided by the media and what we consider to be trusted and reliable sources. So with these sources providing Steven with this fake information to form a new belief and reality in his mind its totally feasible this becomes a real concern, and possible reality.
You can hack someones phone and computer like that! – Of course you can. I am not saying it works like you see in the movie SwordFish, but hacking of computers (as we know) is relatively easy and with physical access its pretty much game over. As for his mobile phone, even though mobile exploits are not as well known its still a OS that can be abused. I would imagination that its a combination of cell tower interception and wifi network inception. Both of these can be done with small investment in equipment. Now I am not for a minute saying they are following him around with all this gear, but after following Steven for some time it wouldn't be hard to setup interception points where Steven is known to use his phone to check the news etc.
No one can be hypnotised as quickly as he was on the bus! – Yes you can, there are people that are considered somnambulists that are highly suggestible and would possibly respond to such a rapid induction in this way. However again in this situation context is key. Steven is a fan of Derren Brown and is probably in awe of all he does. He wants to meet Derren and be in one of his shows, or he wouldn't have signed up. He has met Derren before and been hypnotised by him during the interview and suggestibility process. So when you put all these things in Derren's favour of course Steven could fall into hypnosis at the tap of a shoulder and the command to 'sleep', Derren probably gave a post hypnotic suggestion to return to this state on command, and this suggestions can last days, weeks, months and possibly more.
It can't be real as it would really F**K Him Up! – So I am deffo not an authority on this, but I do know that the subconscious mind holds alot of information, and is very selective with what it shares with the conscious mind, so its totally feasible either by itself or with hypnotic instruction he will be able to only utilise the benefits of this experience and essentially bury the bad. Also we can assume the Channel 4 psychiatrists and legal bods wouldn't let this go ahead, and lets face it if you sign up to be on a Derren Brown show you expect a little mind muggery 😀 Also at the end of the experience he is going to find out it wasn't all real, and the purpose of the experience  The human body and mind are capable of alot more than we give them credit for.
Must be fake because he didn't do this or that! – Alot of comments that it must be fake because he woke up and didn't think it was odd to not have drips in after being in the hospital X days, and other bits and bobs. Sure we are all different and react to things differently, and the perspective of a viewer from the outside and someone living it is very different, remember your own hindsight moments. I imagine after waking up from his bus being bombed and hearing the world is in the crapper he wasn't that bothered about where are my fluid lines. Lastly on this why didn't he beat the crap out of everyone? Well I dont think there was much to use weapon wise, sure chairs etc but I think the background was he is a lazy sod, not a mad huligan who wants to open a can on everyone, and he was never really challenged or threatened in a place with items handy.
He's an actor in a noodle ad etc! – Derren covered this in the video below:
So thats my opinion, am I right or am I wrong? Who knows. Sure people alot more knowledgable have different ideas and thats great. Either way enjoy the show for what it is, and if you dont like it turn it off. Personally I am a bigger fan of Derren's earlier work and his theatre shows, but its good to see how these shows are constructed, and the reaction by the public and the media. In my next blog post we will talk about the Moon and Mars landings ….. only kidding!!
Not sure what I am on about, check out Derren Brown Apocalypse on 4OD now. (UK IP Address Required) Part two available now also.