So I cant quite remember when it was, but I think it was the late part of 2010 that I stumbled across the work of this guy who goes by the name of James Brown. No not the musical one (although he may be a great singer), the one who is a magician, hypnotist and pick pocket 🙂
I have not at the time of writing this had the pleasure of meeting James, but I have seen alot of his material posted online, and I really liked his approach to hypnosis, and his awesome magic / mentalism skills, and because everyone loves the artful dodger his pick pocketing fu also. So when I saw a tweet on Twitter that James was releasing a book called "The Professional Opportunist" I thought, well I have seen some of his DVDs, and I like his stuff, and I would like to know more about his approach, so let me buy it. So I did, and this is what I found….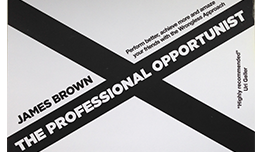 So the book arrives super quick, but due to other commitments and generally being busy I hadn't found time to open it, or check out the DVD I also found in the envelope, that was until I went to Iceland  last week, and decided to have this book on hand for the flight. Now I should point out here, that I hadn't actually done any research on what the book was about, I assumed it was going to be techniques on how James does his business, such as how to do this magic technique, I use this induction approach with hypnosis etc, however when I flicked it open and started reading on the plane, it wasn't really this at all. Uh Oh!!
Now the interesting thing for me was this, I dont read for pleasure, I only read to acquire new knowledge and skills, and I found that when I started reading James's book and it wasn't what I expected, I was still hooked and loving the content and the writing style.
First of all I love James's honesty, this had kinda come over on the videos I have seen, very much a what you see is what you get approach I always thought, and in this book James does the same. He talks about his childhood, education, jobs and the mischief he has got into as he progressed through life. Obviously I am not going to tell you the ins and outs of the book, as then whats the point in buying it. I will tell you what I liked about the book and what I found of value, and also what for me wasn't hitting the sweet spot on what I wanted to get out of this book.
The Goodies…. The introduction and first three chapters of this book really drew me in. I really liked the way James describes how he see people confidence working, and what approach / attitude you should have to improve / refocus to get the best out of yourself. He also lays a clear distinction between someone who has a Set Mind, and someone who follows a Mind Set. This really hit home with me and I agreed with everything, and it made me think about how I approach things, and the Mind Set that I have. This was really focusing around how we can create obstacles for ourselves in our daily lives and how to identify them. He then talks about what he calls "The Wrongless Approach", and this is essentially the fact that if you frame and approach things correctly you dont have to consider the option / ability to fail. I really liked this, and gave me somethings to think about both in relation to how I approach the activities in my job, but also how this can be applied to a team environment.
James then covers methods to remove resistance, essentially how we are all susceptible, and susceptible to creating our own belief systems that can hinder us, so if we can create a belief system that has a negative impact on our approach, we can simply adjust / alter this belief to remove the resistance we have put upon ourself. Finally in the third chapter he writes about progression and moving forward and how language and frames of reference are key to allowing us to move forward, particularly when we are interacting with others.He makes some good suggestions on how we should interact to cause a positive effect, and how we can use effective communication to its full potential.
Chapter four was up next, and this was extra sexy time for me. Becoming a professional opportunist 🙂 So the first section covered James approach to Hypnosis, Magic and Pickpocketing. The key thing for me in this chapter was how James applies his wrongless approach to his performance. In a way its got a child like approach to it, and I mean that in a very positive way. A child is not bound by rules, and beliefs that things are not possible, infact its the opposite, and I feel this is the perspective / attitude James takes to his performance, and something I think any performer, or anyone for that matter should consider embracing. The rest of this part covered more information on hypnosis, and even though I wouldnt say I learnt anything new here, I always like to get another perspective.
For me if the book had ended here, it would have been golden. The remainder of chapter 4 part 2 is more focused on the business / sales techniques side. This was an interesting and informative insight into what I have no doubt are some very effective sales and closing techniques, but its not something that floats my boat. I think this section is allot more helpful for the entrepreneurial types, and as I am doing my thing my way (perhaps a Set Mind here 🙂 ) I read it all, but it didn't keep the books glued to my hands like the previous chapters.
I hope you found this brief review some what interesting, and perhaps spark some intrigue. I am happy to discuss with anyone (if you see me at a conference get me and drink and we can chat) in more detail about the book, and why I found it good. Why am I posting this review in the first place, well the main reason is The Wrongless Approach really rings true for people who are in the Social Engineering field and those interesting in getting into it. Why, well because to some extent being fearless, and approaching problems from the right angle is a key to success, and I think James approach provides some value to us, and people in general for living a successful life.
If you are interested in the book James has it for sale on his site, I dont have any affiliation or anything here I just like to support content I think works and makes sense.
Somewhat related I have also noticed James has a couple of Pick Pocketing Training Sessions coming up, so if I attend one of those I will share my thoughts on that to, I am sure many of you would be interested in that 🙂
I am now off for a lie down now, quite a few posts lately, what on earth is happening 😀 Oh and sorry, just realised it became quite a big post.
James Brown in action: