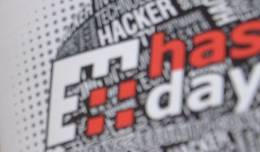 Hashdays – the premier technical security conference in the center of Switzerland organized by DEFCON Switzerland.

During 4 days the center of Switzerland will become also the center of IT security knowledge transfer. On November 3rd and 4th you will be able to learn a lot in the workshops. The following 2 days (November 5th and 6th) will be full of highly technical IT security talks.

Be sure to reserve your seat early – the space is limited.
I am delighted to confirm that I will be speaking at the Hash Days Security Conference in November. As expected I will be talking about Social Engineering, and my work and research on exploiting the ways humans act and behave, and how we can use the most powerful tool available to us…. Our Minds. The talk will cover my journey of discovery of the skills we can utilise to improve our SE Manipulation with the use of NLP, Hypnosis, and Mentalism.
I hope to see you there 🙂
My talk from HashDays has now been posted on YouTube.